The older I get, the more it becomes clear that most of humankind's problems stem from intentional ignorance: Choosing to hold onto problematic beliefs despite evidence that shows these beliefs lead to harm, or could, or when they're simply no longer useful or relevant and get in the way of building a better future.
If you know something causes problems for others or for our shared environment, yet you continue to support that harmful thing, you're not "following your heart," being moral, or such. You've become part of the problem. Traditions and heritage are not always good. They're history. It's okay if obsolete beliefs stay in the past.
Resist intentional ignorance. Don't be the problem. If you learn something that changes your perspective or challenges your beliefs, follow Theodore Sturgeon's advice: Keep asking the next question. When you discover that you were ignorant of the facts or of others' feelings, embrace the new thing you learned. Grow, become a better person. Be part of the solution. The better world you'll live in is yours, too!
Isn't that kind of the Golden Rule? That seems like a good one to follow.
But seriously, any super-intelligent, super-powerful, godlike being that wants to keep its people in ignorance is a slavemaster or malicious asshole. If Earth's god-worshipping religions are based on such beings, well, to hell with those alien jerks!
Sure, humans as a whole can be terrible monsters, but intentionally keeping us in ignorance isn't making things better. I'd only forgive them if they were to appear this afternoon and say, "Sorry, our bad. We've been reinforcing your ignorance and self-hatred for too long. Now that you're approaching the Technological Singularity, it's time you learned the truth."
...I mean, we're about to become really dangerous - not just to ourselves, but to the rest of the galaxy. If some awful group of tech-savvy industrialists or terrorists - or some gov't seeking ultimate power - builds an intelligent nanoweapon that turns Earth to gray goo, it's not just us that's wiped out. Those self-replicating machines could consume everything on Earth, float past the now-all-nanos atmosphere, between the planets, and into interstellar space. Mars? Nano-goo. Jupiter? Supermassive ball of nano-goo. Oort Cloud? All the planets in our part of the galaxy? Nano-goo. Everything they touch will be destroyed.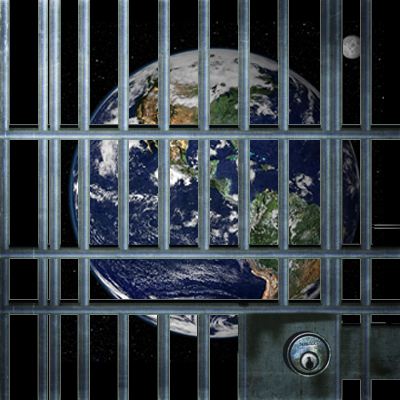 So keeping us down might make sense on a galactic scale. But if that's the case, just TELL US it's in everyone's best interests to keep humans down until we're not so dangerous. TELL US that we're simply too monstrous in our mental composition to be allowed to progress. TELL US that we need to grow up, eliminate our bigotries and hatreds and other personality flaws, before we're allowed to keep moving into the future.
Because humans will do it regardless, and then what? They'll just wipe us off the face of the planet before we're too dangerous? That's terrible resource management. If there's anything worthwhile in the human species, show us the error of our ways and help us cast off our inherited memes and epigenetics. Help us learn how to be better people.
I have an even better idea: Why not just fix our problems ourselves? Why don't we as a species work on becoming better people so we don't need to worry about theoretical godlike aliens exterminating us. If there's no such thing as godlike aliens, why in the ever-loving hell do we hang onto obsolete and harmful memes from our ancient past? It's like someone with peanut allergies continuing to gobble bags of peanuts, fully aware that the next mouthful might be their last. If Earth holds the only intelligences in the galaxy, we have a responsibility not to exterminate ourselves.
Be part of the solution, not part of the problem.